This social media eBook
launch can help you make
your book a bestseller
The Art of Social Media eBook
and Book Launch
This is how this social media eBook study started. I was offered a free review copy by Peg Fitzpatrick on a Google+ post. Below you'll discover the marketing publicity step the authors planned together.
So I got a free review copy after filling out a form they posted asking me about my web sites and presence on the World Wide Web. Then I received an email from a penguin publicist, not the Batman one, but a real publicist. So I read the book in 2 hours.
Here's the letter...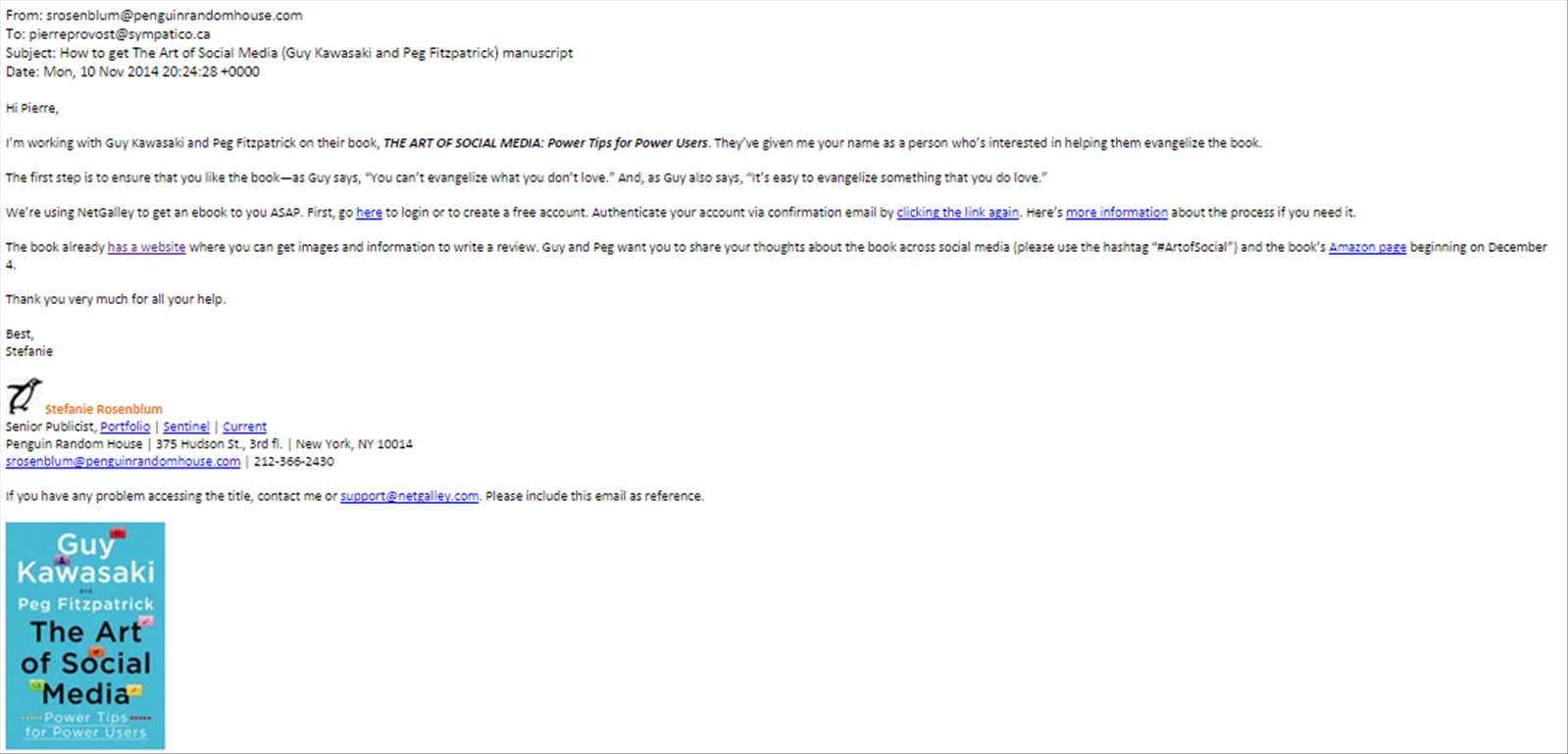 Now how about if someone gave you their social media ebook and book publicity campaign on a silver platter...
Get an inside look at the time frame of their social media ebook tour and publicity campaign starting December 3, 2014
with the G+ calendar
It`s all there. In my mind, they are giving you a free marketing model to copy and sell your books online.
I find this a very generous gesture on their part to open the curtain to their schedule for the pre-launch and launch of their new book.
Click on the date slider and start on December 2, 2014 and move forward. You'll see a list of their plan day by day. Simply amazing.
Click these words to mark their calendar on your G+ calendar.
Don't get me wrong these people have experience. Guy Kawasaki is the author of 12 books. He knows what he is doing. Now look at how they leverage social media...
Notifications that reinforce your messages
Peg has 638,587 followers on Google + and people receive notifications when she posts a message online. Imagine 638,587 could receive an email from her if she wanted to send out an email. Most people don't do it because they feel it is spam. But if you put a comment on her G+ post, you will definitely receive an email from all people who posts comments. But this is not about an email propaganda launch but about the reach you have when you have lots of followers. Now Guy, he has 6,739,522 million followers. Not enough for me ;-)!
Invitation to the largest Social Media Conference in beautiful San Diego

Guy and Peg are already branded as the social media Queen and King. But what do you think is going to happen at the Conference? Probably handouts of free eBook gift cards in exchange for an email or two. It`s a great opportunity to socialize with power influencers and to build an email list for free using a slide or flyer and cell phones.
Free endorsement of Pre-Orders on G

A G+ friend, Paul Hatfield, announced pre-orders for Guy and Peg's new social media ebook as a Kindle Edition with a picture of the cover and the price. This is brand new. You can now offer pre-orders on your books at amazon.com. Clever move.
How to reach influencers and increase your reach and frequency with your target market (more reach, more sales) 

Peg posted the Hangout on Air series with 7 power influencers in the social media field some of them have their own social media eBook. 

Now you can multiply their number of followers on G+, youtube, facebook, twitter, tumblr, pinterest, linkin, Instagram, and individual email lists. Add it all up and you get testimonials from the most influential social media marketers and target clients big enough to fill 20 football stadiums. Oops there off to a good start…
Each influencer announces their HOA to associate themselves with the authors, promote their brand and build their mailing list

Rebekah Radice, one of the influencer, announ-ces in a G+ post her HOA with Guy and Peg. Great for everybody.

We are family...
A New Site helps spread the word about their social medai eBook and book to millions on Facebook, Twitter and Tumblr
Want to recruit supporters before your book is released? There is a new web site that does exactly that for you. Ready for the applause. It is… 
Again another slew of influencers who help spread the gospel. I wonder if the 12 apostles would have used social media to spread God's word?
Meanwhile back at the ranch...
Meet the chief evangelist of Canva, ex-evangelist of Apple, and now best-selling author of 12 books
While Peg is promoting and siphoning every avenue of free publicity, Guy is hobnobbing with the CEOs of the world and taking selfies to promote his image on all the social media platforms and hopefully his new social media eBook. Hey Guy build that mailing list ;-).
| | |
| --- | --- |
| There he is at it again Paul says this social media eBook and book is a #gamechanger even a secret weapon. Come on Paul a secret weapon. Where you by any chance in the movie, The Secret. Thought I saw you in the bloopers ;-)! Still another great plug with a little comment from Peg. Smart publicity! | |
Ingeniuous Idea: Take the social media eBook quiz to find out how much you know

I failed. Guess I needed to read the book. 

The web page has it all. They also bought the domain name artof.social didn't even know the extension existed. Oh great web site by the way.
No it can't be. He's at it again, Paul the premiere promoter of the book. It must be a virus oh no I mean a viral campaign. Good job Paul. I won't ask the killer question. But good job. Love you Paul. The momentum is building…

 
A Social Media Tool Authors
Often Forget to Use
Free Hangouts on Air (HOA) to
Publicize Your Book
Smart... Peg made a Hangout on Air (HOA) video when she received copies of her book by mail from the Penguin I guess. A great personal touch since it was her first book. I know the feeling and it feels so great to see your name on the book cover. Most important it`s great to share your knowledge with others. I remember I got 50 free copies from my publisher for my first book.
Can I put in a plug for my books? Please... go directly to amazon.com do not pass go, do not collect $200 but invest in the old man's knowledge. I had to do it if I want to keep living on almond butter and macaroni ;-). After you buy my books, all of them, they're only $2.99, you can watch Peg's lovely video.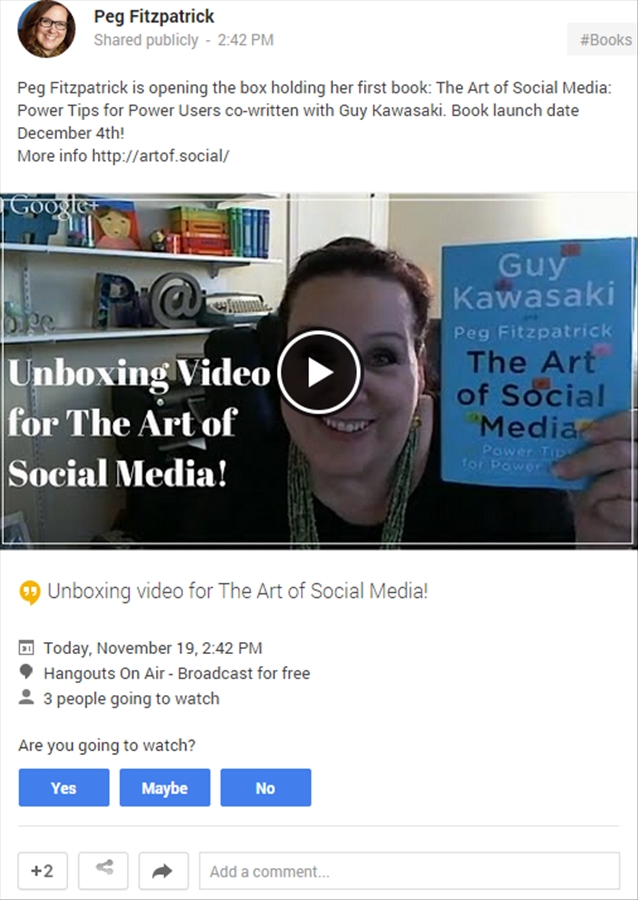 Create your brand and your status
Another post made by Peg to establish her guru status as a social media marketing specialist. She's a master at it by now.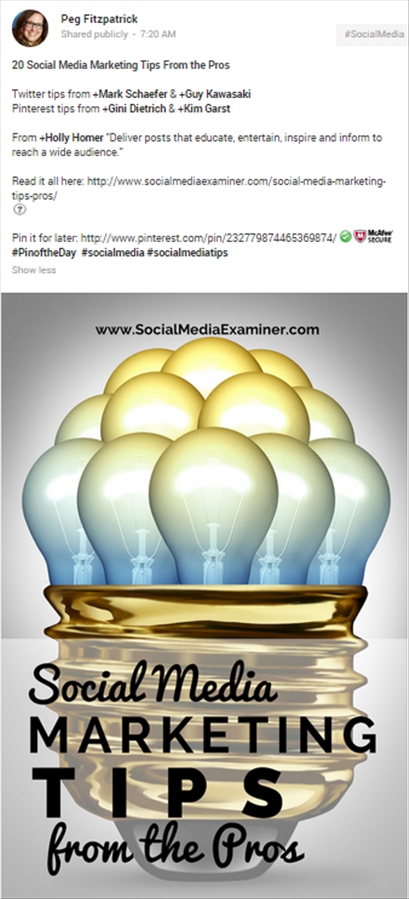 Drum roll here's my review...
It's a great book. The social media eBook is even better because of the ease to click the links. They know what they are talking about and they are not only preachers but they practise like ninjas ;-) you'll understand what I mean when you read my testimonial. Oh no please Paul will you forgive me.
My testimonial coming soon to a post near you. The power of a social media eBook.
123 Powerful Ways To Increase Your Social Media eBook and Book Marketing To Reach Your Buyers
I don't personally know Guy Kawasaki (is he a ninja motor bike champion) or Peg Fitzpatrick (is she a ninja Irish lucky charm), I guess not. BUT they sure know how to use social media like a covert ninja (忍者) agent or mercenary.
In feudal Japan, "the functions of the ninja included espionage, sabotage, infiltration, and assassination, and open combat in certain situations."
In The Art of Social Media: Power Tips for Power Users, +Guy Kawasaki and +Peg Fitzpatrick reveal their secret ninja strategies for the feudal Internet economy. They may not be the Lords of the social media fiefdom but they are combat champions of social media as you'll discover in their book.
I promise you they won't kill you with a sword but they will cut open hundreds of hot links to their secret strategies. No not pizza chains but real life money-making examples of social media.
Here are just a few of the ninja strategies you'll read about in this mercenaries' social-media book...
·      Where should you always be doing your ABCs (always be checking) and why you should always be ABC (always be curious)
·      What is the optimal size for a picture, photo or graphic for each platform... do it correctly or look bad
·      What are Guy and Peg`s top 10 great title starters
·      Where can you use hashtags and should you use hashtags on Pinterest
·      How many posts should you share per day plus the ultimate post schedule for casual and hard-core users on 5 platforms
·      The risky business of repeated tweets... to do or not to do
·      The best way to share your posts and the best apps to schedule your posts and replies
·      What the hell is a mensch? Is it a secret Ninja hold ;-)
·      Should you pay somone to promote your post
·      What is the advantage of being multi-lingual
·      Which is better SEO (search engine optimization or SMO (social-media optimization)
·      How can you surf the web incognito to double-check and spy on your work
·      How to foster engagement, build your reputation and even have fun (Ninjas do buy and eat pepperoni pizzas, don`t they?) 
·      Can blogging and social media co-exist or should you focus on social media only
·      How made for delivery tweets help spread the word like a tweetie bird
·      What are guest post and where can you make them
·      How to create the perfect ''Peg'' post and much more...
·      Where and how to integrate a #hashtag
·      How to create your own worldwide TV channel and what equipment will you need to produce a great program
·      What is a trailer and do you need to hook it up with your video programs 
·      How to broadcast your TV program to everybody on earth who has an Internet connection
·      How to prepare yourself and your guests for a Hangout On Air broadcast (HOA)... plus how to run a full rehearsal
·      What the heck is a Twitter chat and how to do it
·      Should you start a community on Google+
·      Do Google+ HOA and Youtube channels go together like a horse and carriage
·      What does IFTTT stand for and what can you use it for
·      Where can you collaborate on secret private projects
·      What's the eye ''candy effect'' and where can you use it
·      How many pins must you have on a Pinterest board to make it effective
·      What's the difference between a SlideShare and a PowerPoint and where should you use them
·      Does using tags (keywords and phrases) increase visibility for your SlideShares?
·      What are the 3 best platforms to share your SlideShare with followers and friends
·      To tweet or not to tweet with pictures is that the question
·      Do all your followers on Twitter think you are .@ascrappyasshole? (Why is there a period before the at sign?)
·      How to use Twitter cards effectively
·      The secret formula to build your youtube following
·      How to put every social-media strategy together to promote yourself, your web sites, your books, your products and your services
Oh by the way, you can eat your pizza with all the toppings you want and have it all at http://goo.gl/znQRbr
#socialmediabook   #marketingtips   #bestsellingbooks 
 Just Imagine Your Success And Do It Now,

P.S. Of I recommend you buy this social media ebooks. Click the link here and enjoy.