How to use eBook marketing strategies and social media to publish your eBook free of charge
Unique eBook Marketing Strategies
Of course you know about standard eBook marketing strategies and social media online. It's a smorgashborg of pêle-mêle strategies unless you have an eBook marketing plan.
Let's have some fun and analyze the innovative eBook marketing strategies for a new multimedia eBook recently launched by Hillary Carlip.
First she's a published author with 4 books to her credit and now an interactive multimedia eBook, Find Me I'm Yours. Her target niche is young girl teens between the ages of 14 and 18. Her first book, Girl Power: Young Women Speak Out, was published in 1995. It was selected by the New York Public Library for inclusion on its "Best Books for Teens" list, and Hillary appeared on Oprah to promote the book.
Click on the ShareThis link to...with your friends.
Lesson number one, your first step to fame as an author is to get an endorsement from Oprah ;-)!
Hillary is also an artist who has her art work on display in a museum show traveling to five cities during the 2013-2014 season entitled Stocked: Contemporary Art from the Grocery Aisles. You'll notice her art work also on display in her eBooks you can skim at amazon.com. 
Hillary is a partner with storyverse.com CEO Maxine Lapiduss who is an American comedienne-singer, television comedy writer, director, producer, entrepreneur, and branding strategist and marketing maven. Maxine wrote and produced many notable comedy series including Dharma & Greg, Ellen, Roseanne, Home Improvement and more. In 2014 she directed the Disney Channel's hit comedy, Jessie.
In her eBook, Hillary weaves a story about a girl who dumps her boyfriend who cheated on her and wants to find the man of her life whom she sees in a video online. You can watch it on youtube.
Hillary coined her new eBook experience, Find Me and I'm Yours, CLICK LIT®.
Rosettabooks.com is her publisher and their distribution strategy is illustrated in the pic below.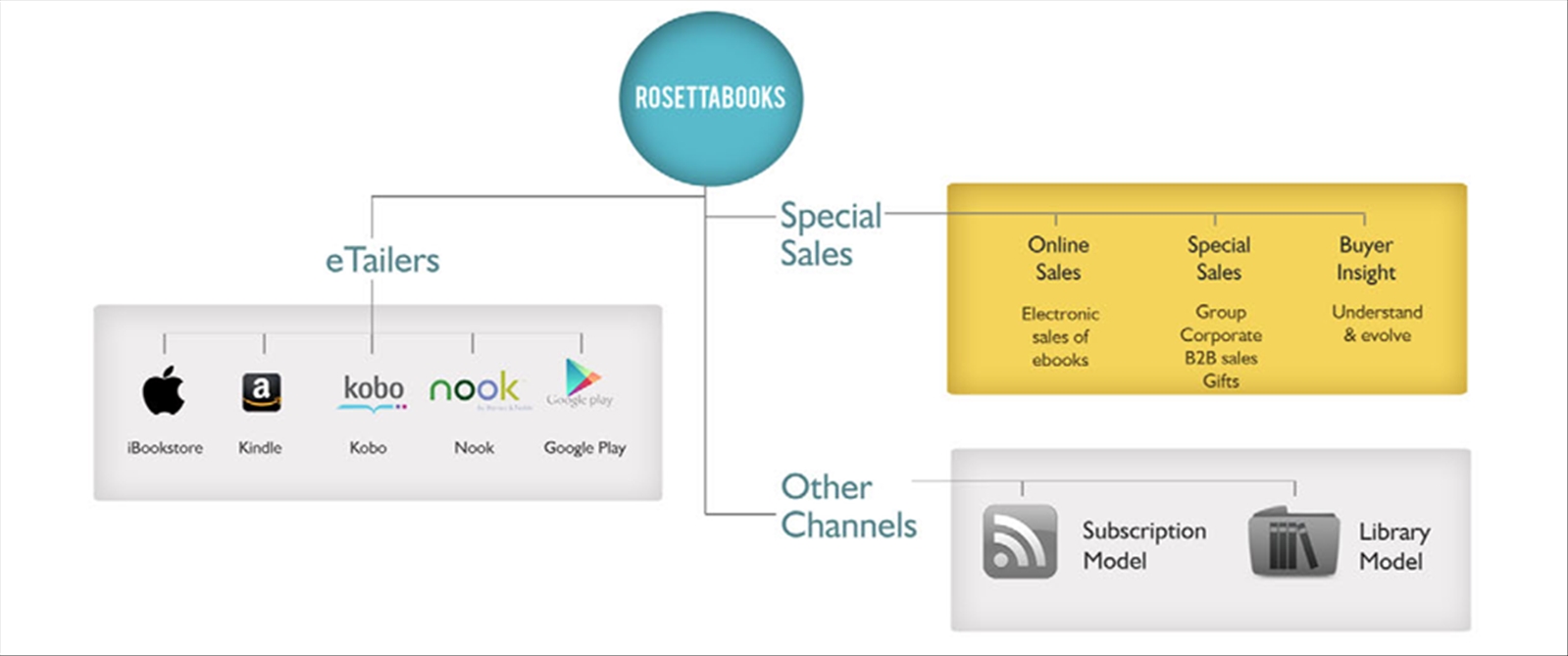 And their marketing strategy is...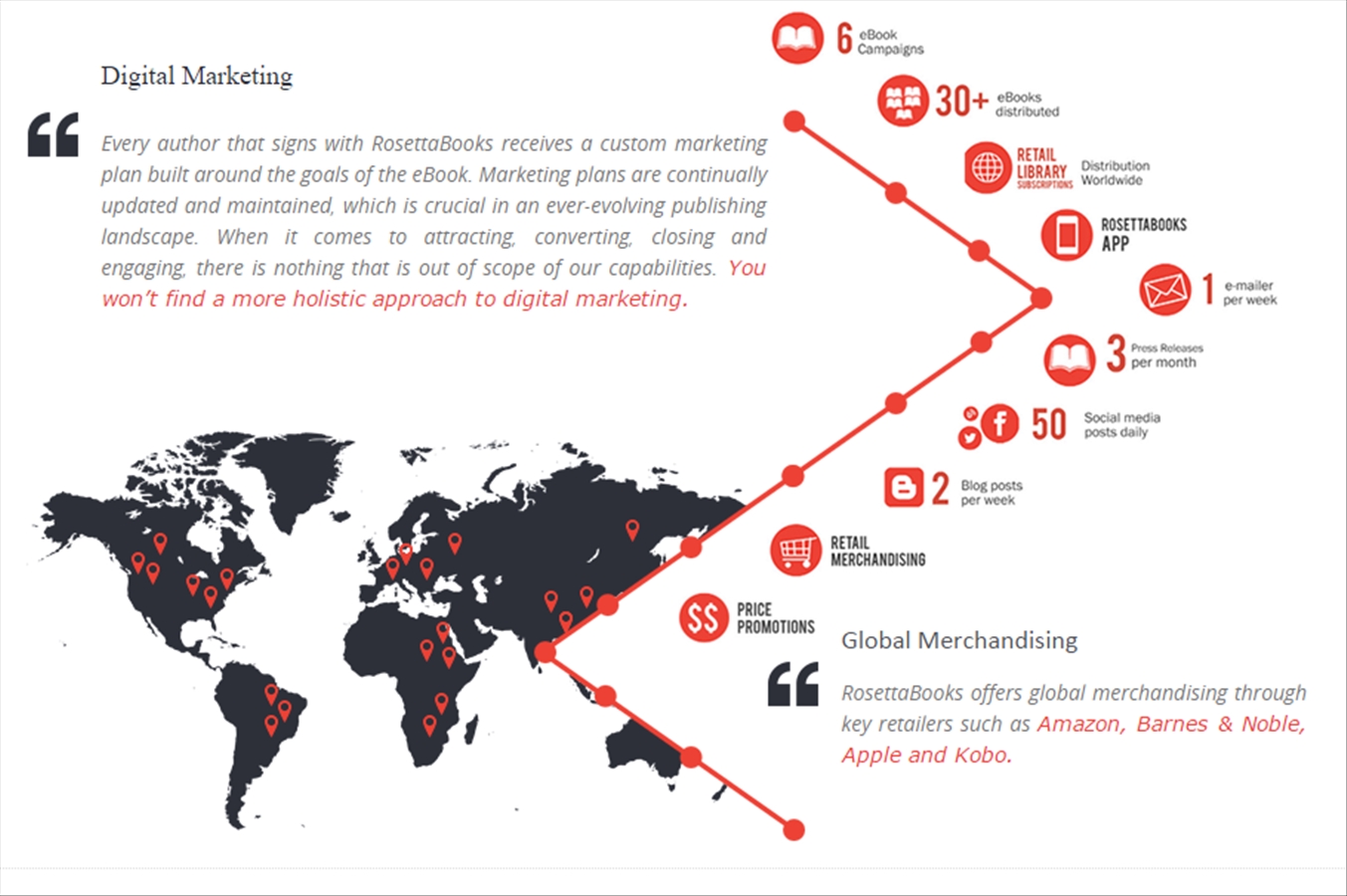 Most important are the product placements in the story. Mags, the protagonist, loves her Sweet'N Low sugar rush. The author mingles the product benefits throughout the eBook with Mags pouring Sweet'N Low in her coffee, painting her fingernails pink like the color of the packets, and even proving that the effects of the product does not cause cancer with references to studies that claim it is safe.
I won't go there...
Now you know how to publish your eBook without a penny invested. Go out and get sponsors, weave their products in your story and ask for hefty ad fees.
The backers Cumberland Packing Corporation also uses eCards to promote the eBook at fairs and shows. I remember reading in the book, APE: How to Publish Your Book by Guy Kawasaki and Shawn Welch, that they recommend the eCard company enthrill.com to sell your eBooks at conferences and trade shows. 
Mike Koenig in his new book, Publish and Profit, suggests the use of a one page flyer with a QR Code, text in phone number, and phone number, or to visit mobile web page to giveaway free copies at conferences. The links and emails send the freebie hunters to a squeeze page to grab their email to build an email list. Here's a snap shot...
Of course, you already know that the BIG money is in the list and backend.
To sum up the eBook marketing strategies...
I enjoy new ebook marketing strategies and I hope this analysis gives you some ideas to use to make your eBook a bestseller.
Just Imagine Your Success And DO It Now,

P.S. With Amazon.com you can also use their author page in your arsenal of ebook marketing strategies. Note the use of videos, twitter links, blog pages, you can even add pictures... check out mine. 
P.P.S. Remember also to click on the ShareThis link to...with your friends.