How To Achieve Peak
Performance With Mental
And Physical Preparation
Why Peak Performance Takes
Courage And Hard Work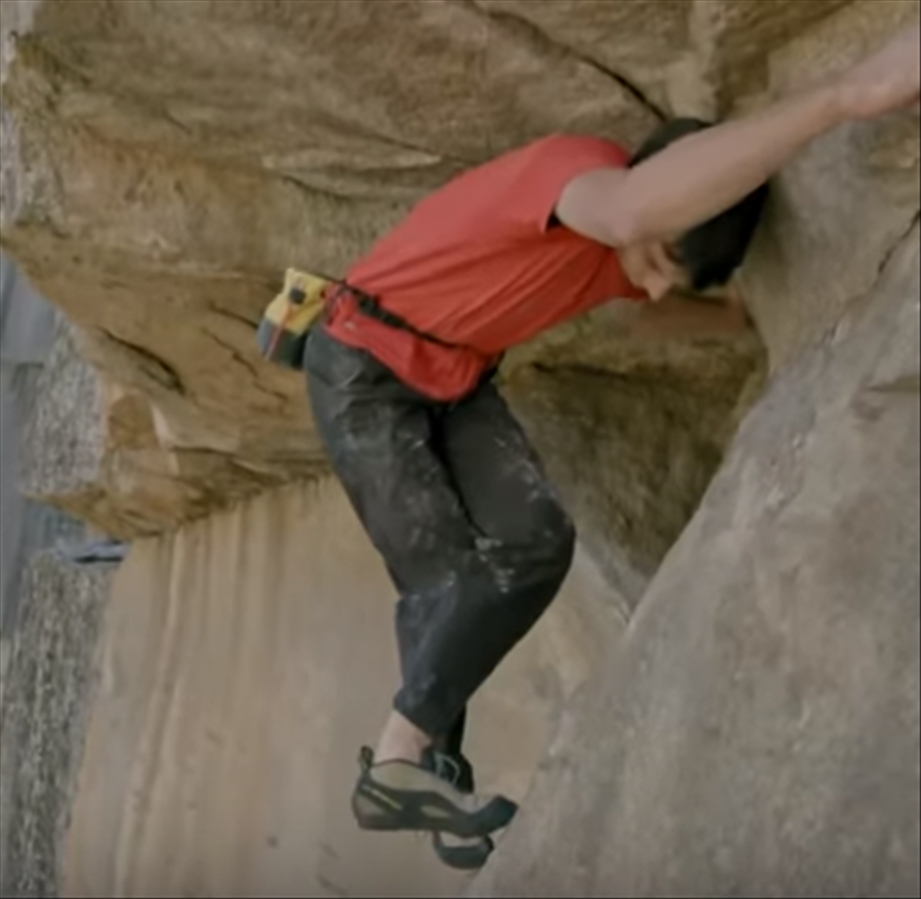 The ultimate in peak performance...
Alex Honnold making his stunning
free-solo ascent of Yosemite's El Capitan

     To achieve peak performance in his solo rock-climbing career, Alex Honnold used mental imagery to conquer his fears... and physical practice.

     Alex Honnold made his stunning free-solo ascent of Yosemite's El Capitan in 2017 without any ropes or safety equipment. 
     Most amazing, he was filmed while preparing and doing it.
     No matter how you look at it, he was putting his life on the line.
     But...
     He was doing it with experience, mental toughness, sport psychology and courage.
     You could say he was nuts.
     In the film "What if He Falls?" filmmakers Elizabeth Chai Vasarhelyi and Jimmy Chin take us inside the process of documenting Honnold's quest for climbing glory — and the ethical calculus of filming a friend who could, with the slip of a finger, plummet to his death.
     Here's my question.
     Would you film a friend knowing he could fall to his death from a 3,000 high cliff?
Inside The Process Of
Peak Performance
     In my eBook, Mental Training For Winning, I talk about the best strategies to use videos and video self-modeling to achieve peak performance. Check it out and use the tools to improve your personal and professional life in sports and business.
     Without a doubt, he uses all the strategies I write about in my book. With practice, he has mastered the science of peak performance.
Watch The Video And Be Amazed
At Alex's Tremendous
Mental And Physical Skills
The best of success to you,

P.S. Here's what top experts have to say about my eBooks...
"I read your Mental Training for Winning Series and recommend your eBooks to anyone who wants to achieve peak performance." ~ Robin Sharma, best-selling author

"Pierre Provost's -Mental Training for Winning series- is an encyclopedia of learning that uncovers the keys to tapping into your personal peak performance. If you want to find personal and professional success in the 21st Century, this ebook series is a must read. I highly recommend it." ~ Dr. Joy Macci, Sports professional, and author of Serendipity of Success
"Talk about a refreshing idea! This Mental Training for Winning series is a masterpiece revealing how video can be used to help you get virtually anything you want. Not only that, but its insights into the media and how we are programmed help wake us up so we can choose the programming we prefer. I'm impressed with this amazing ebook series. Get it and prepare to transform your world." ~ Dr. Joe Vitale, #1 Best-Selling Author
"Mental Training for Winning series by Pierre Provost is such a brilliant look at the truth of how we have been allowing the media to program us and how to turn this around to the positive in your life. so much research has gone into this by Pierre and I became the student once again. I have been teaching for many years how the mind thinks in pictures, therefore to change our lives we must visualize and change the pictures and most definitely be wary of what we watch on Tv as the subconscious thinks it is real. if you are serious about creating a successful life please do your self a massive favor, and leap ahead in consciousness and success by tuning into your genius within." ~ Michele Blood, creator of musivation
"The Mental Training for Winning Series is the most comprehnsive self-development series of eBooks I have ever read. The Power of Words eBook in this series is remarkably profound.There are many nuggets of wisdom and insights, which I keep discovering every time I re-read the series. I really appreciate and admire Pierre Provost for writing such a valuable series." ~ Dr.C. Kumarbabu, Psychiatrist, M.D.

Peak performance is a learned skill. It takes practice and hard work. Mental Training For Winning. Check out my other eBooks there is a 15 day guarantee and you can only win at a low price of $2.99.
Please share with all your friends on social media. Click the links below. Thank you.