How Taylor Swift built buzz and publicity with the help of
her social media fans
Taylor Swift, did she do
it intentionally or not?
By now you know, Taylor Swift is a phenom. I've talked about her life and songwriting skills before.
Now it's time to talk about her marketing skills.
As usual I invite you to please share this story and video with your friends. Click on the ShareThis link...

In the social media world, she frequently connects with her fans. For example at this time, she has 72,919,559 on Facebook, 49,400,000 on Twitter, 16,900,000 on Instagram and 2,285,194 on Google+ and the numbers keep growing each day.
Let's round it off at 100 million social media fans. 
Imagine selling 1,200,000 copies of your new CD album in one week.
Come on it isn't possible?
Well this young lady did it.
Now in direct response of which I am a fan, if you divide 1.2 million by 100 million you get a .012 buyer response rate. I know it's a simplification but probably a pretty accurate number I believe. Anyway let's forget the numbers and focus on the process.
How did she and her team (she does have a team behind her) do it?
For the launch of her new CD 1989, she first launched a campaign on Instagram that was very creative and effective.
She built buzz with storytelling and visuals. Hey Instagram is all about visuals, ain't it? Wait a second, you can add words, videos and links to other social media sites therefore building synergy. Don't you just love it when I use big words ;-).
She used a 13-day countdown to release the lyrics of one song from her album per day. Sounds like the 12 days of Christmas to me. Clever my friend.
She did it with images related to her songs. And here's the kicker, she wrote block messages and doodles. Right on her target market radar. She recorded between 300,000 to 600,000 likes. Not bad when ''nobody likes me.'' Ok I'm a cry baby.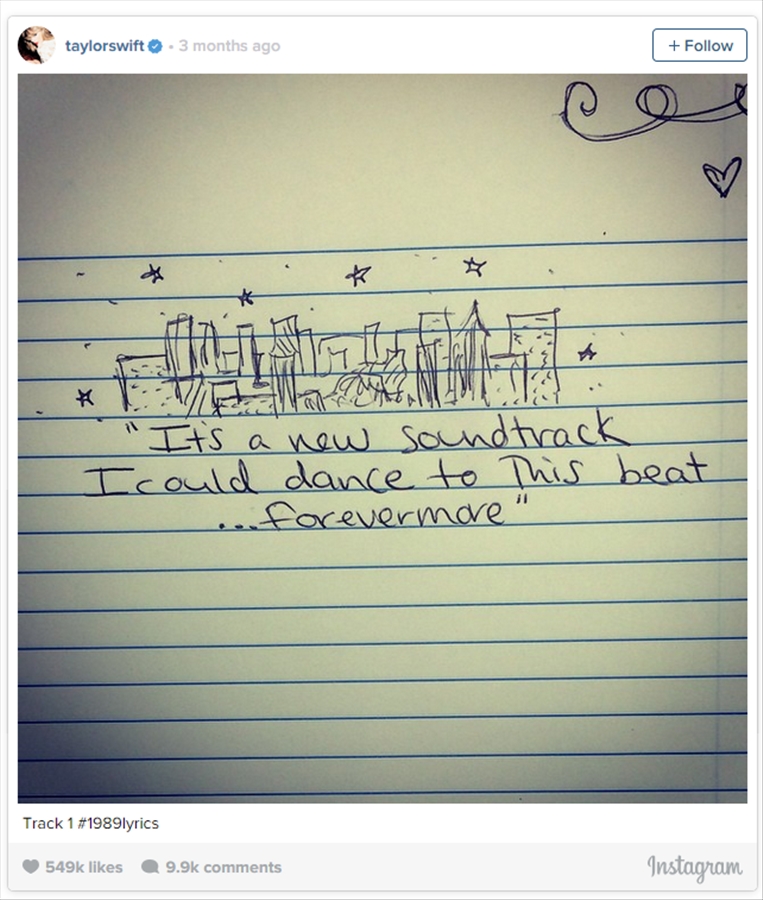 Now remember that her loyal fans tweeted about her messages on Instagram and other social media platforms. Isn't the squared power of social media exciting? 
The Power of The American Music Awards Night
Her American Music Awards skit for her song Blank Space was a masterpiece of auto-suggestions, subliminals and metaphors.
You can watch it below.
Taylor Swift - Blank Space American Music...
What do you think her fans registered unconsciously when they saw the skit.
Think for a minute with your Left Frontal Cortex about the guys carrying frames. The rose burning fire.
Don't they remind you of Harry and the hollow's gang plus Katniss and the catching fire franchise. All her target market people.
To Spotify or Not To Spotify:
Keep building the buzz and publicity
Miss Taylor Swift had the audacity to pull her songs from a major streaming music player, Spotify.
Did she want to make a statement or was it all a part of the marketing strategy?
Doesn't look like the streaming music business is hurting the music industry according to the Recording Industry Association of America.
The chief executive of Spotify, Daniel Ek, says his company based in Sweden has paid $2 billion in music royalties since 2008 more than half in 2013.
Taylor says, she did it because she felt that the streaming service does not fairly compensate "the writers, producers, artists, and creators of this music" then she added, she did not know if it was the right decision.
Short term, no harm done her sales are pretty good. Long term, she might lose some money in royalties and CD sales. Time will tell.
She just moved to New York city where she says she can walk anywhere... to be on Good Morning America in Times Square and next on Dick Clark's New Year's Rockin' Eve with Ryan Seacrest 2015.
Imagine everything just in time for Christmas and New Year's Biggest party in Times Square... the biggest sales period of the year. Where's my Canadian buddy Justin?
7 Lessons to Learn from
Taylor Swift's Marketing Campaign
I invite you to please share this story and video with your friends. Click on the ShareThis link...

Just Imagine Your Success And Do It Now,

P.S. Check out the Taylor Swith modeling process she borrowed from me (NOT, just selling my eBooks but my strategies are aligned with hers. Now if I could only sing and write poetry. Roses are red, violets are blue and money is green ;-)!