Why I always want to see Billy
Crystal and the Oscars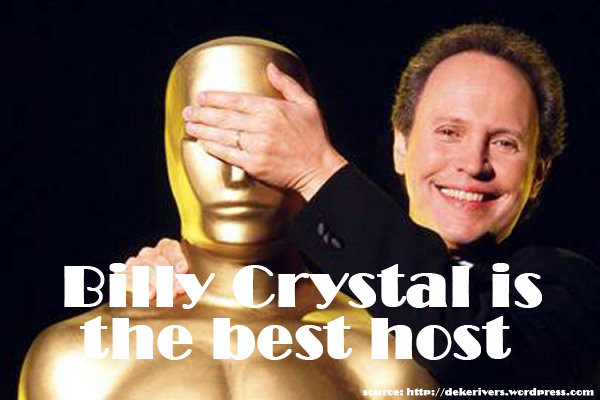 So I'm sitting in front of the TV waiting for Billy Crystal to walk onto the stage.
It's Oscar night. And more than a billion people worldwide want to see their favorite actors celebrate movies.
I want to see Billy.
I'm ready and on the edge of my seat listening to every word.
I tell my wife and girl, "Get ready, it's starting now."
So why do I love Billy Crystal?
Because he makes me and... especially my wife laugh.
My wife and I have been through tough times since she's had breast cancer BUT when I hear her laugh it makes my heart feel so gooooood. I feel her energy and happiness shines inside me. Forget the chemo, the radiation, the hot flashes, the monthly visits to the hospital and the pills.
Give me laugther as healing medicine. Give me Billy Crystal.
Anyway who is Billy Crystal?
First of all his name is William Edward "Billy" Crystal. Billy to his friends.
Is he an actor, writer, producer, comedian, or film director?
Well all of the above.
He studied the Arts at the Tisch School of Arts. He studied film and television direction under Martin Scorsese (not bad company) at New York University. He also performed at The Improv a standup comic theater. He did impressions and TV roles.
Quite a pedigree if you ask me.
His father, Jack, was a record exec who owned The Commodore Record Store. Billy also produced an album called Mahvelous.
In 1989, Crystal played the role of Harry in the classic romantic comedy When Harry Met Sally. Do you remember the fake orgasm? "I'll have what she's having."
He holds the record for getting his contestant partner to the top of the The $20,000 Pyramid winner's circle in the fastest time, 26 seconds. You better believe he's a fast thinker!
And would you believe Billy Crystal entered University on a baseball scholarship?
Hey can he hit a ball out of a park? In a spring training game against the Pittsburgh Pirates, Crystal led off as designated hitter for the New York Yankees.
Of course, he has an affection for Mickey Mantle one of the best baseball player in the New York Yankees' history. He was my favorite player too. And as part-owner of the Arizona Diamondbacks, he won a World Series ring in 2001 when the Diamondbacks beat his beloved Yankees.
Now let's get back to the Oscars for a moment.
The opening medley is the show stopper for me. And during the show, they review the best actors, the best pictures and the best music, and much more.
You know the movie industry is all about imagination and creation, make-believe stories that imprint into your mind whenever you hear a music theme or see a famous scene.
Most important it's about emotions that last a lifetime.
How do they do it?
Well it's all about editing, cutting, remakes and retakes. Also today performance capture plays a role you can't believe until you see it in action think Avatar, Tintin and Rise of the Planet of the Apes.
I love when Billy tells wonderful stories chockful of inuendos and jokes I want to hear over and over again. That's why we all gather in front of our TVs to laugh and hear stories from the master storyteller.
This is Billy's 9th appearance on the Oscars as host. Second only to Bob Hope's eighteen times whom I also loved dearly.
Give me Billy Crystal and my wife anytime.
See you at the Oscars.